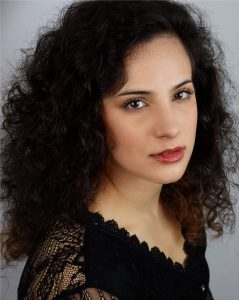 Physical Details
Height: 167 cm / 5ft 6in Skin color: White
Weight: 65 kg / 143 lbs Eye color: Brown
Waist: 71 cm / 28in Hair color: Brown
Dress Size: 10 – 13 Hair length: Long
Ethnicity: White / Caucasian Hair type: Curly
Languages & Accents – English, French, Italian, Greek
Recently I have participated in a documentary, an informing video for a company and I keep working as a background actress or extra, while looking to go a bit further with acting.
I finished the 1st of three years in an acting school and participated in a few plays unprofessionally.
TV & Reality
I have participated as an extra, being a dance teacher in TV drama on greek National television.
Film & Stage Crew
Freelance Producer, current
Producer and 1st Assistant Director in a short film in progress
Location, crew and props finding
Budgeting and cost estimating
Assisting in Marketing
Freelance Extra, current
Working in a variety of Features films, TV spots and TV dramas and shows
"Bum Bum Train", Production Assistant (volunteer)
Assistant Scene Leader
Offering administrative assistance to the production team and recruiting
Learnt in-house software and radio system
Was responsible for timing sequence of a scene
"Athens International Film Festival": 2013 and 2014
Stage and Hospitality Assistant (Volunteer)
Meeting and greeting delegates, co-ordinating delegate programs and helping them around the city.
It was my responsibility to liaise with different organizers and delegates, thereby ensuring that the day's events ran smoothly.
I was stage assistant for the celebration of 25 years 'S?????' magazine, in 10/2014. This event involved my assisting with the sound and music on a musical performance.
"Elliniki Theamaton":
Stage Assistant, Theatre Employee/ Usherette
Carrying out backstage duties and being an assistant stage manager
Dealing with customers enquiries and providing information and usher's duties
Acting as a wardrobe assistant during a major production
Carrying out office duties some time, taking bookings both face-to-face and via the telephone
'Michalis Cacoyannis Foundation"
Production Assistant (Volunteer)
Providing administrative support, updating and organizing their files and history
Being informed and walked through administrative work of the Production Team such as contract making
Supervising a couple of major musical productions. I was solely responsible for backstage organization.
Providing Front of House duties when required.
Orasis Productions
Runner (Volunteer)
Providing support service to the production team at the full length film 'Poker Face'
Towards the end of this position I was offered a salary, because the Team was satisfied with my work. Organized and achieved expectations.
Athens Concert Hall:
Assistant Director (volunteer)
Providing an all –encompassing service to the director. Assisting with rehearsal, publicity and funding.
Giving cues for music and organizing the Theatre allocation and seating.
Handling necessary money transactions for the performance
Promoting the event through distributing marketing materials