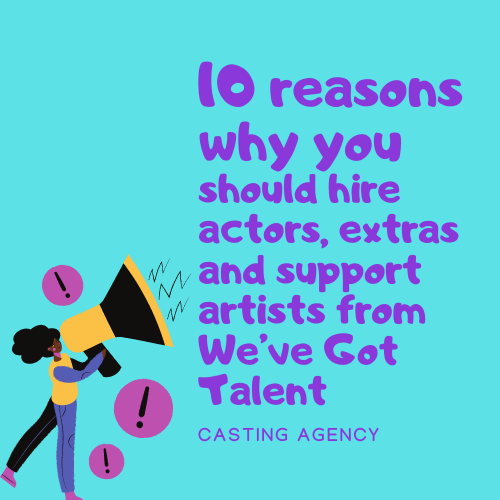 10 reasons why you should hire actors, extras and support artists from We've Got Talent
10 reasons why you should hire actors, extras and support artists from We've Got Talent
When it comes to hiring actors and extra's there are a lot of options out there. However, we think that working with We've Got Talent is the right way to go. Here are 10 reasons why
1. We are fortunate that actors, extras and background support artists want to register with us. We have more than 25,000 performers on our books with a wide range of experience, skills, look and age. With a database of this site we know we can find the right performers to carry out your particular brief.
2. We've Got Talent has the experience. We have been providing actors to production companies, PR agencies, TV and radio for more than 10 years so are very confident we understand what you want from an agency.
3. Experienced performers. All the actors and extras available for you to hire from We've Got Talent know what they are doing and want the opportunity to audition for you. Many of them are fully trained actors and many have additional experience as singers, models, dancers, Brand Ambassadors, comedians and MC's/hosts.
4. We are quick! There is always a member of the We've Got Talent available for you to communicate with 7 days a week. If you want to hire an actor last minute then we are able to spring into action straight away for you. Even when your shoot is happening we can help with any last minute tweaks to your booking with us.
5. We are happy to give any advice and help you may need. It's important to us that you feel completely happy working and hiring performers from us. Sharing our past experiences could really help your project be better so ask us anything you want, there are no silly questions!
6. We have a rather impressive database. You tell us what you want and that's what we will get you. Our database can fine tune all the important details you want from the actors including those all important details like accent, build and past experience. Whatever is required for your project we will deliver options to you that match your particular need. Our team will open the castings based on the information you provide and send over a bespoke link to you to view the artists that have applied to work with you. The link will even update applicants for you to view the moment they apply so you will always see new artists as they apply.
7. We hire crowds. Need hundreds of background artists? No problem. Providing crowds is a bit of a specialty of ours and we seriously enjoy doing them. If you want 10 people in a scene or a thousand people for that killer shot we can make this happen for you.
8. We are seriously nice people! All the We've Got Talent team are approachable and want to help you. You won't get passed around 20 different departments to ask a simple question and we want to get to know you. It's really important to us that we can build a relationship with you and your team. If we like each other we work better together.
9. Great prices to hire actors that do not need an accountant to work out the price structure. We can work with FAA/PACT rates but also a fixed price for a fixed time. What ever works best for you we can do.
10. Flexibility. We have been in the industry long enough to know that sometimes things change and we are always ready for that. We are here to support you, not hinder your production. Whatever may change you know we are on your side and will do what ever it takes to make things happen for you.
Do you need to hire extras or supporting artists?
Just pick up the phone or complete the form below with your requirements and can send you over available profiles very quickly!
[su_box title="GET IN TOUCH" box_color="#0285C0″ title_color="#000000″]
[/su_box]