Hire the Best Talent in Bristol
From actors to a supporting cast and walk-ons, at We've Got Talent we really do have the talent for TV and film work, as well as for theatre and PR stunts.
Exceeding Expectations
We've Got Talent is part of the Envisage Group which means our ethos is simple – to exceed client expectations.
When it comes to your project, whether that is hiring a crowd or a large group of extras, or maybe a mob of people for a promotional gimmick, we do three things to ensure success;
1.We get to know your brief – by understand exactly what you need, we can make sure that you get the right talent.
2.Within budget – we understand you want value for money which is why for Bristol based events, we supply local talent reducing travel and transport costs.
3.Managed – for larger bookings, an experienced event manager will ensure everything runs smoothly.
Who Are We've Got Talent?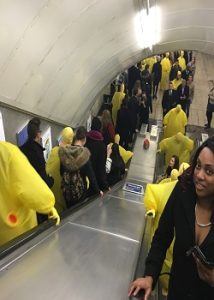 Since 2009, we have been supplying extras, actors, walk-on artistes, stuntmen and women and more to clients from throughout the world of TV, film and theatre, as well as promotional and PR agencies.
We have a reputation for reliability and for providing enthusiastic talented people, no matter what the project or role.
Our competitively priced services for actors, crowd hire, extras and other talented people for Bristol events and promotions is popular with a growing number of big brands, TV and theatre companies, as well as many PR agencies and production companies.
From TV dramas to commercials, to wacky PR stunts, we have been involved in it all – and this experience shows in the professional of our talented actors and extras, as well as our in-house event managers.
We have a growing database of people too, with over 12,000 people on our books all boasting a range of skills, abilities and experiences.
Why Hire Talent from We've Got Talent?
Our competitively priced services make us the go-to agency, as does our ability to select the right people, the first time and every time. This is because we get to understand your brief and what you are looking for, we create a shortlist of potential talent on our books. You are not swamped with hundreds of profiles to choose from!
We also have a deep pool of talent including actors, extras, performers including dancers, MCs, musicians, singers, models, presenters… and more.
Book Bristol Talent Today!
Booking with We've Got Talent for Bristol events and filming locations is simple. Just call our team on 0844 800 0071 or complete our enquiry form, let us know your brief and budget – and we'll do the rest.
Your dedicated event manager will create a short list of talented people for your project, ready for you to make your final choice. We coordinate and arrange everything with our people so that they turn up when and where you need them.
There is no other casting and talent agency that provides such an efficient service or has the range of talent like we have at We've Got Talent. For your next Bristol event, commercial or production, call us on 0844 800 0071!