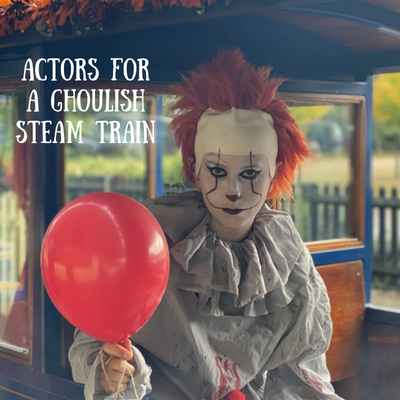 Actors for a Ghoulish Steam Train
Actors for a Ghoulish Steam Train
Ghoulish steam train antics livened up the annual Exbury Halloween experience throughout October half term – and our group of actors thoroughly enjoyed themselves in the process!
Their brief was to haunt the train tracks, capture attention and use slapstick comedy to entertain passengers. It was fun for everyone, actors, passengers and crew alike.
Running for seven days every autumn, the Exbury Halloween steam trains are always a sell out event. It proved the sheer worth of having trained actors to play these ghoulish comic roles to perfection.
Covid – The Covid 19 pandemic did make it a little harder to achieve, but our staff still succeeded in making it an event to remember.
We had to find actors who could work effectively within social distancing restrictions and learning a script at home. They had just one rehearsal to get it right.
We knew we had to choose our staff very carefully. Not only did they have to be first class actors, who could adapt routines as necessary, they also had to be available to work all seven days of the event. It would not be possible to replace anyone.
We began by identifying experienced actors on our database who lived locally, within Exbury. When we checked out their details, we found that six of them actually had panto experience, which made them perfect for the task. One of them also had professional face painting skills so she could teach the other actors how to apply their makeup to match the requirements of the roles involved.
Staying safe during Covid
Once we had the team, and they were proficient in the roles, the next problem was to ensure that they were fully aware of all the restrictions under which they had to work. It was crucial to ensure that staff, performers and families travelling on the 'Spooky Express' trains every day were kept safe, minimising any Covid risks. Government guidance had to be followed exactly.
With guidance constantly changing, we had to work with each performer to make sure that they were kept aware of any changes on a daily basis.
The event
All this hard work and careful attention to detail paid off. The Spooky Express was a total success. No tickets were left unsold. Every seat was booked and occupied. Families and crew had a memorable Halloween. It proved that events like this could be held safely and effectively even under the most difficult circumstances.
So, if you are planning an event whether for Halloween, Easter, Valentines Day or any other time and want a group of actors to bring it alive, safely and effectively – talk to us. We can provide exactly what you need. All it takes is a phone call, email or simply fill in the form below.