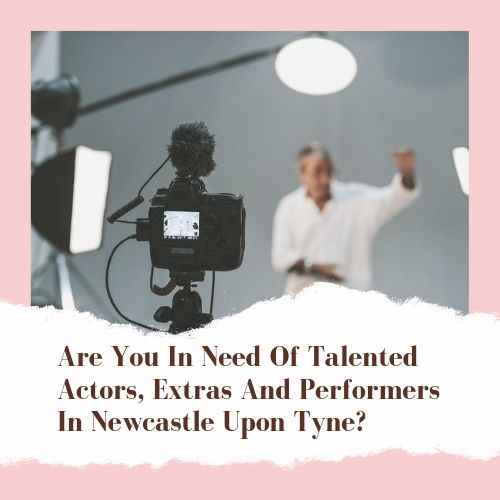 Are You In Need Of Talented Actors, Extras And Performers In Newcastle Upon Tyne?
Are You In Need Of Talented Actors, Extras And Performers In Newcastle Upon Tyne?
If you are, you've come to the right place because we have some of the most exciting acting and performing talent that Newcastle Upon Tyne has to offer. At We've Got Talent, we are the go-to agency for supporting casts, walk-ons and extras for film, TV and PR stunt and have been for more than a decade.
With a reputation for providing professional and reliable extras, leading production companies in the UK turn to us time and time again.
Hiring actors and performers in Newcastle Upon Tyne is as easy as 1,2, 3…
At We've Got Talent, we've simplified the search for talent by bringing together performers and actors from across the city and surrounding areas. And that means the search for the right extras, actors and performers for your project is less consuming but successful too.
This is because our performers continually add to their portfolios so when a call comes in, the talent team have all the information they need at their fingertips to match our talented people with your project requirements.
And this means booking performers, actors, singers, dancers and walk on artists really is as simple as 1,2,3:
1. Your brief
By fully understanding your project and the talent you need, we can begin the process of matching local Newcastle Upon Tyne performers with your project. There is nothing artificial about this process: we handpick a short list of potential performers from which you can choose the right people for your assignment.
2. Your budget
We understand the constraints of budget which is why we work harder to deliver value for money. With film or PR stunts in Newcastle Upon Tyne, we always try to match local performers so that you get the best service and the best talent for your budget.
3. Your expectations
When you turn to We've Got Talent, we know you arrive with expectations of what and who we can deliver. With this in mind, we don't want to 'just' meet these expectations, we want to exceed them! For this reason, we assign every client with their very own account manager. They will act as your one point of contact throughout the hiring process.
Who are We've Got Talent?
We are a talent agency, providing walk-on artists, extras, performers of all kinds including singers, dancer, musicians, DJs and stiltwalkers, as well as stuntmen and women for events and projects across the UK, including those in Newcastle Upon Tyne.
Our database is continually growing because we look for new, exciting talent all the time. No assignment is too big or small for our team. With many years' experience in the field, you have peace of mind that when you turn to us, you know we are an agency that can and does deliver every time.
Find out more about hiring actors and performers in Newcastle Upon Tyne
Use the contact form below to request a free and no obligation quote or better still, call the talent management team at We've Got Talent on 0844 800 0071.
[su_box title="GET IN TOUCH" box_color="#0285C0″ title_color="#000000″] [/su_box]