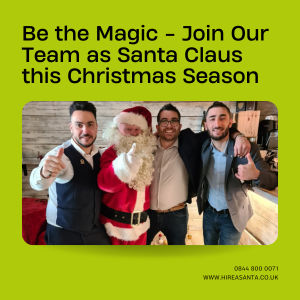 Be the Magic – Join Our Team as Santa Claus this Christmas Season
Be the Magic – Join Our Team as Santa Claus this Christmas Season
The holiday season is a time of enchantment, wonder, and joy, and there's no better way to embrace the spirit of Christmas than by becoming Santa Claus himself! Are you looking for a unique and rewarding job opportunity this holiday season? Look no further! We are excited to announce that we are recruiting Santas for events, one-off visits, and enchanting Grottos all across the UK. Whether you're interested in full-time or part-time work, our flexible positions come with fantastic pay, provided outfits, and comprehensive training. Join us on this magical journey as we spread holiday cheer throughout the UK.
We are part of the Hire a Santa group and have been providing professional performers since 2010.
Why Be a Santa Claus?
Being Santa Claus is more than just a job; it's an opportunity to make a real difference in people's lives during the most wonderful time of the year. Here are some compelling reasons why you should consider donning the red suit:
1. Bring Joy and Happiness:
As Santa, you have the power to bring smiles to children's faces and warmth to the hearts of adults. Your mere presence can transform an ordinary day into an extraordinary memory.
2. Create Lasting Memories:
For many, meeting Santa Claus is a cherished childhood memory. As Santa, you have the privilege of creating these treasured moments for a new generation.
3. Be a Part of Community Celebrations:
Being Santa Claus means becoming a beloved figure in your community's holiday celebrations. You'll be invited to events, parades, and Grottos, where you'll play a central role in spreading the magic of Christmas.
4. Spread the Spirit of Giving:
Santa Claus is synonymous with giving. Your role as Santa will inspire generosity and kindness, reminding everyone of the true meaning of the holiday season.
Why Choose Us for Your Santa Claus Adventure?
We understand that being Santa Claus is a special responsibility, and we are committed to ensuring that our Santas have everything they need to excel in their role. Here's why you should choose us:
1. Fantastic Pay:
We offer competitive compensation packages for our Santa Claus performers. Your hard work and dedication will be rewarded with generous remuneration.
2. Provided Outfits:
We understand that the Santa Claus costume is essential to the role. That's why we provide top-quality Santa outfits to all our Santas, ensuring you look the part.
3. Comprehensive Training:
No previous experience as Santa Claus is required. We provide comprehensive training that covers everything from perfecting your Santa persona to handling interactions with children and adults.
4. Flexibility:
Whether you want to be Santa for the entire Christmas season or just on weekends, our positions are designed to accommodate your schedule and preferences.
5. Join a Magical Team:
You'll be part of a team that is dedicated to spreading holiday magic. Our Santas come from all walks of life, creating a diverse and supportive community.
Apply Now to be a Santa
If you're ready to embark on a magical journey as Santa Claus, we invite you to join our team.
Whether you're interested in one-off visits, event appearances, or enchanting Grottos, we have a role that suits your availability. Apply now and become a part of the joy, wonder, and enchantment of the holiday season. Together, we'll make this Christmas truly unforgettable for families across the UK.