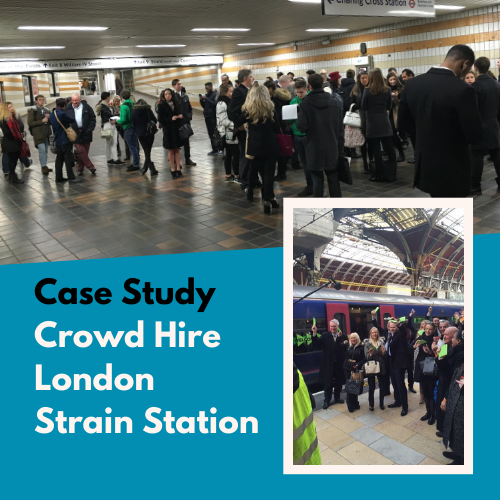 Case Study – Crowd Hire London Train Station
Case Study – Crowd Hire London Train Station
We've Got Talent Casting Agency work closely with PR Agencies and Media Houses. One of our regular clients needed over 150 extras to be in the background for the launch of a new train service at Paddington Station in London. These are the type of projects we like to work on because a lot of extras love this type of work.
The crowd of people had to be from a very mixed and well balanced background of different people so they really looked like people travelling on a train. Part of the performance was to move to and from different platforms and getting on and off the trains. The We've Got Talent 'Bookings Department' made sure they took time to read and understand what our client needed. Then they started the selection process making sure we had a good mix of young, old and families.
On the day of the shoot
In our experience when having a lot of extras at location it is easier to allocate groups of people to one event manager. When working with our casting agency we provide Event Managers too (at the same price of an extra so no extra cost). When the extras arrived at Paddington Station they reported to their allocated Event Manager. We had three event managers looking after 50 people each. This way the client can do the task they need to do and only have to liaise with three people instead of 150.
The extras were in groups of 50 and throughout the day the groups rotated for various scenes. Mostly they just had to walk up and down the platform and alight from the train.
The Result
The extras were finished early because our client got everything they needed. Because of the event managers and experienced extras who knew what they were doing made it an easy and successful shoot for our client.
[su_box title="GET IN TOUCH" box_color="#0285C0″ title_color="#000000″] [/su_box]