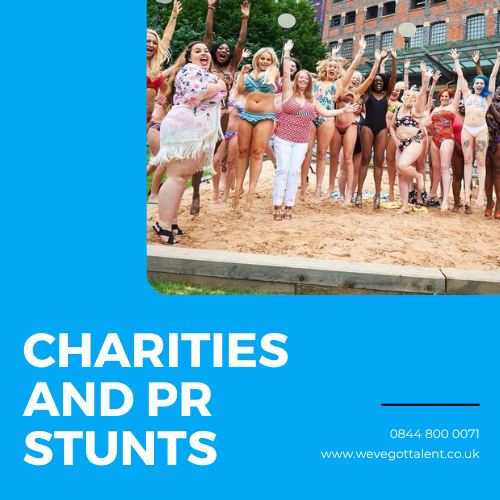 Charities and PR Stunts
Working with charities always creates an instant 'feel good' ambiance and provides lots of scope for innovative, imaginative PR stunts.
With over 169,000 registered charities around the UK, there is guaranteed to be a charity that matches your brand requirements. It can be mutually beneficial – the charity gains extra publicity and more donations to fund its work, while the brand gains publicity by being seen to be socially active. It creates that essential 'feel good' image.
One of the most trailblazing charity stunts was a simple idea. Back in 1986, USA for Africa held a Hands Across America event. All it involved was a lot of co-ordination, and attracted massive publicity since 6.5 million people held hands in a massive human chain from one side of the USA to the other. Participants donated $10 to stand in the chain, and it was supported by donations from many organisations. In total $34m was raised for USA for Africa.
More recently, there was that stunning installation of ceramic poppies at the Tower of London. Organised by six armed forces charities, it was visual, thought-provoking and sufficiently striking to make national and international news. Eventually each poppy was auctioned off, raising over £9m for the various charities.
The images continue to be used from time to time, staying in the mind, and keeping awareness of the charities and associated companies in the public eye.
Controversy can also help in gaining attention. Just think of the campaigning group Fathers 4 Justice, who scaled parliamentary buildings dressed as superheroes. The shock factor combined with the publicity the event occasioned helped make their message known.
Whatever your stunt, you need to make it stand out. It has to sum up the charity's aims, and offer something visual and engaging.
Aim to be newsworthy, visual, eye-catching, and original. Think outside the box!
Don't try to be too sensational – it can have the opposite effect.
Incorporate your PR charity stunt into a wider communications strategy.
Make sure that the PR stunt is covered on social media as good stunts will go viral.
Book good promotional staff who can bring your stunt to life.
Need to hire a crowd of people or actors for a PR Stunt?
Chat to us – we love unusual ideas and have lots of good promotional staff, actors, magicians, character mascots and more on our database. All it takes is a phone call and between us, a fantastic PR stunt that will achieve everything you want can be guaranteed!