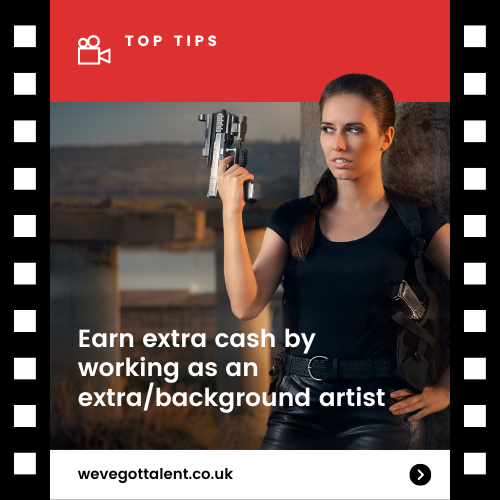 Earn extra cash by working as an extra/background artist
Earn extra cash by working as an extra/background artist
You can make a good income by working as an extra in film and TV productions at locations around the UK. No experience is necessary, just a willingness to learn and work hard.
We've Got Talent is looking for great staff who can take part in all kinds of productions. All you have to do is sign up with us by clicking here.
We've Got Talent is part of the Envisage Agency Group. We are well known within the industry and provide extras for numerous TV and film companies, including many major productions.
Sign up and create your own personal online profile. All the details that you provide are kept totally secure and private. The only details that we sent to clients are the images you provide, your measurements, experience and any special skills.
The information given in your profile helps us to identify which jobs are most suited to your skills so that we can contact your directly by email and/or text messages.
Before signing up to We've Got Talent, you need to know that:
You do not need to be available on a full time basis
Having your own transport is an advantage – film productions are often in remote areas
You must possess the right to work in the UK
You must aged 16 or over
What happens next
As soon as you have registered wit us, you will be sent details of all suitable opportunities both by text and by email. Just keeping checking your mailboxes!
Don't forget to update your profile if anything changes such as your phone number or availability.
Tips to create the perfect profile
You must provide good photographs. They have to show the real you. If you submit a photograph showing yourself with long hair and arrive on a set with short hair, the casting director might well cancel the booking.
Insert as many measurements as possible in the profile. Sometimes bookers need to know the person's measurements because they need to match a specified costume size to make sure it fits. If your profile does not include any measurements – then you will be ignored by booking organisations. They want to know measurements such as height, weight, bust, inside leg, outside leg.
Make sure you have added all your contact information including address, emergency number, mobile, email. Sometimes we have to get in touch with people urgently and fast – if the contact information is not present then you may lose out on a booking.
Add in all the skills and training that could be relevant. This could include special skills like first aid, horse riding, scuba diving, jogging, even linguistic skills. If you speak more than one language say so on your profile.
Response time – this is very important. You need to respond fast and immediately whenever you are contacted. Film companies want to make decisions quickly, and ensure they have the right people for the job.
Any questions?
Get in touch with us now. We will be happy to talk you through creating a profile, or discussing what life is like as an extra.