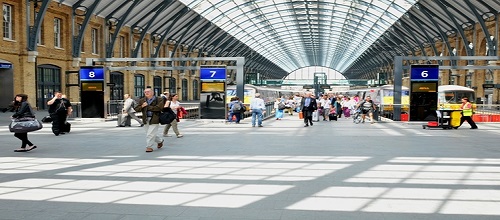 Extra's for Paddington Station Filming
Do you have a requirement for Extra's and Supporting Artist's in London?
Here at We've Got Talent we were approached by an external agency who had a requirement for over 155 individuals to be part of a new train launch taking place in the capital. We were very excited when asked to be involved with the proposal and our bookings team commenced castings and booking the perfect talent for the project.
The role of the extra's and supporting artists had was to represent travellers ascending and descending the platform and congregate at the entrance to the carriage in preparation to alight the train. This event took place at one of London's train station on a cold winter morning.
From other travellers and visitors to the station it created a buzz and there were lots of questions as to what was happening, keen railway enthusiasts were excited by the train in situ at the platform.
The bookings team at We've Got Talent fully understood the clients brief and took time to put in place the right candidates which featured both young, old and families – we were given as part of the brief the number of individuals in each age category and the team provided the client the exact match to ensure they captured the exact media footage they required to enable them to launch their train.
Onsite Managers Included!
We've Got Talent offer to clients dealing in such high numbers event managers, on this occasion we allocated three event managers on site to meet extra's at the venue, place them in to their working groups and receive any questions they may have, by putting these event mangers in place they could work with the client to minimise the number of instructions the client needed to distribute thus allowing them the time to focus on capturing the required footage – this is part of the service We've Got Talent offers and does not incur additional fees.
Overall feedback on the day and post filming from the client suggests that the event was a success and she was delighted with the service from our casting agency.