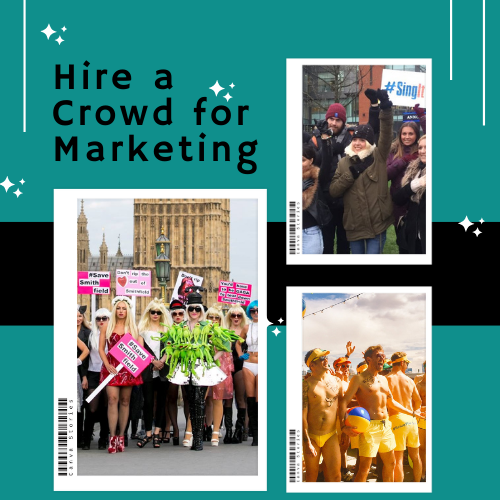 Hire a Crowd for Marketing
Hire a Crowd for Marketing
When crowds gather, it is human nature to immediately stop and find out why. Humans are naturally curious – especially when people suddenly start doing something unexpected such as singing, dancing or performing a playlet. Not surprisingly, this technique has proved extremely successful for marketing purposes. The sheer publicity that such crowd activities engender can be worth their weight in gold because it is not just a one off publicity stunt – the images and films can reappear time and time again for years.
Back in 2009, Antwerp Station was the scene of an unexpected rendition of Do Ray Me from the Sound of Music. As the sound of a clear singing voice suddenly cutting through the usual noise of the station announcements, people stopped and stared as a group suddenly started to form dancing and performing. The resultant video is still circulating on social media, likewise many other similar events such as a flash mob appearing unexpectedly at the ICE London 2019 trade show, or a flash mob on the Las Vegas strip carefully organised to end with a with a marriage proposal for one of the onlookers making their engagement extremely memorable! Sometimes it has just been a random act of culture, designed to create some publicity such as the Opera Company of Philadelphia performing Hallelujah at a leading department store in the city.
Events of this kind are perfect for generating publicity in any public place, from shopping malls, high streets, train stations, to conferences and exhibition halls. The element of surprise immediately catches attention. It can boost morale at corporate events, such as company training days or during special announcements like mergers or changes in premises. People instantly engage with such events because it can make a dull presentation come alive. It makes a splash, turns team building initiatives into something special.
By assembling quickly, performing and then disappearing, a crowd flash mob instantly achieves its aim. It creates instant publicity – especially if local media has been prewarned that something is going to happen in a certain place at a certain time. The resultant videos, films, photographs capturing the scene by people watching quickly populate social media and frequently go viral. It is eye catching, promoting a company as innovative, forward thinking, positive and lively.
Even when organised by a commercial organisation, messages are always implied rather than stressed. Entertainment comes first and foremost, with the element of surprise generating the public response. It makes a brand talked about and given visibility within a wide audience, increasing traffic to a website. It attracts potential customers because they realise that you are a brand that could be interesting. The interactive nature of the event also appeals, since often ordinary people not part of the flash mob start taking part joining in the singing or dancing. It is a great way to engage with members of the public.
Flash Mobs
Every flash mob event immediately results in some form of publicity, simply because it creates a conversation point, a talking point which engages an audience, and provides a feel good factor. No matter how bad the weather, or whether people are feeling depressed or unhappy, encountering a sudden flash mob offers a few minutes respite and relaxation. It quite simply makes people smile!