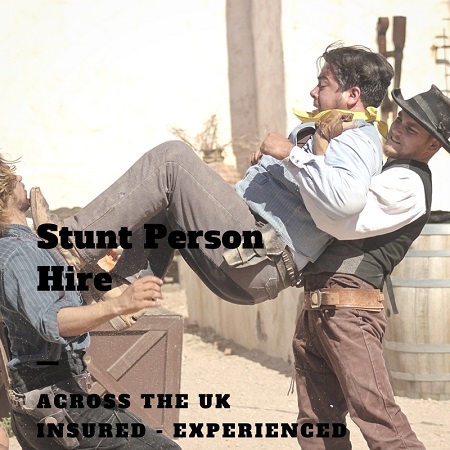 Who are Stuntmen and Stuntwomen?
Who are Stuntmen and Stuntwomen?
A stuntman or woman is someone who substitutes for an actor or actress in a film or TV show. They have to perform dangerous scenes involving falls, fights and car crashes. The stunt person is not filmed up close and almost never stars in the production. These people are the unsung heroes of the film industry, taking all the shorts, punches and 50-feet drops with little or no recognition. Stunt work began during the western and cowboy movie era where the stuntmen had to fall of rooftops during gunfight sequences or were dragged across streets with their boot stuck in the horse's stirrup.
What Do They Do?
Stunt persons can be attacked by animals, jump off bridges, strap themselves to an airplane's wing and be involved in a fire or an explosion. Stunt work comes with many risks whether it is on stage or on set. Sometimes the stunts might look dangerous but they are actually fitted with safety mechanisms. These mechanisms are edited out during the post-production of a film. However, most stunts are dangerous especially if they have to be performed in front of a live studio audience.
Where Do Stuntmen and Women Work?
A stuntman or woman performs their jobs on the location the movie or TV series is being filmed. They often have to work long hours starting at 4 a.m. and ending at 11 p.m., functioning on very little sleep. The stunt person works in all kinds of weather and most of their stunts take place outdoors. This line of work allows you to travel to many different places all over the world and keeps you away from home for long periods of time.
How to Hire a Stuntman or Woman?
Stuntmen and women are hired through casting agencies which have many different types of professionals on board. These agencies are always looking for new talent to join them and help them expand their portfolio. One such agency is We've Got Talent which operates all over the United Kingdom.
They provide stunt professionals for movies, films, TV shows, stage plays, reality shows, advertisements and other promotions. They have a dedicated staff of stunt extras that specialize in certain disciplines. The stuntmen and women can also be hired as entertainers for private and corporate events.
We've Got Talent help stunt professionals find gigs that match their talents. They help cast the stuntmen and women into perfect roles and build their professional career. It is also easier for casting directors to get in contact with a certain stunt professional if they are listed with an agency.
We've Got Talent has categorised the stunt men and women according to height, hair color, skin color and other physical attributes to help casting directors find the perfect substitute for their lead star. They also have photo and video portfolios of the stunt professionals uploaded online so their talent and skills can be viewed before shortlisting for auditions. The contact details of any stunt professional can then be requested from the agency.