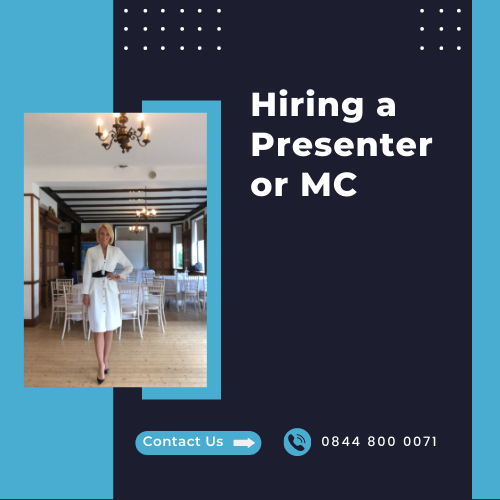 Hiring a Presenter or MC
Choosing the right speaker, presenter or compere to host your event is rarely easy. How do you choose?
What makes a really good guest speaker?
It is a crucial decision and not one that should be taken lightly. The choice of speaker can make or break your event. Sometimes people can even be put off attending by the choice of keynote speaker, which immediately reduces your potential audience catchment.
Make the wrong decisions and your event – and your own personal reputation – suffers. Get it right and you can relax, enjoy the event and the congratulations from attendees.
What makes a good compere?
Speakers, comperes and presenters need to have fantastic communication skills. They need to be able to read an audience, sense how it is going to react to comments, jokes and information.
Speakers need to be interesting and avoid boredom in their listeners. This is the worst thing to happen when speaking to an audience. Glazed eyes and lack of interest among the audience soon manifests itself in polite rustling, shifting around in seats, checking watches and looking away from the speaker.
Speakers should be aware of key themes, and reasons for the event and ensure that these are presented coherently.
Speakers need to inspire, entertain and provide a relevant perspective on the subjects of the event.
Considerations to bear in mind when choosing a speaker
• Background knowledge
• Does the speaker need a lot of background knowledge about the event and the people involved?
• What type of information will you need to provide for them?
• Do you need to choose someone with detailed industry knowledge for example if acting as a compere at an antiques auction or an awards dinner?
Budget – Identify your budget and how much you can pay a speaker. Be realistic.
Celebrity presenters are not always the best choice – they may not have the background knowledge you need, or simply don't appeal to everyone.
Work with an agency
We have an extensive database of speakers, comperes, presenters all of whom are highly experienced, possessing a wide range of skill sets and knowledge bases. This means we can guarantee their quality of communication, presentation and work.