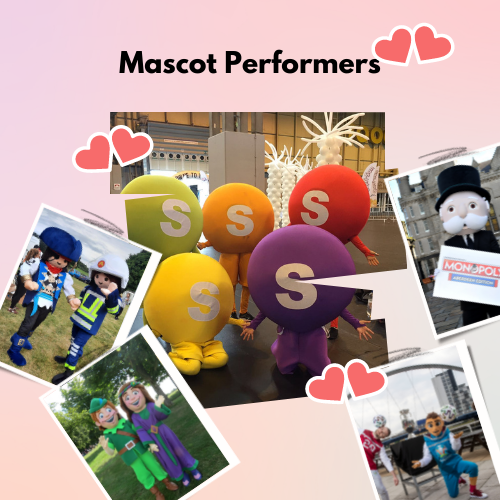 Hiring Professional Mascot Performers
Hiring Professional Mascot Performers
The sheer range Playmobil® characters offer some fantastic opportunities for attention grabbing publicity using costumed performers.
We have provided Brand Åmbassadors and costume performers on many occasions for Playmobil® and it is always a fun event for staff and audience alike.
A recent festival in Basingstoke saw three of our costumed Playmobil® performers taking centre stage.
The brief was for people who could bring a Playmobil® character to life, and also to work as a brand ambassador when they were not in costume. Our performers had a brilliant time and the client was very happy with the results.
Multi skilled mascot performers
It's not an easy task being a multi skilled mascot performer. You really need special skills and a very special personality. Wearing a costume, especially full body and head ones, can be very tiring. They can be heavy to wear, and you might not be able to see very well out of the headpiece so need guiding around an area.
What makes a great multi skilled mascot?
Experience is essential
Mascots have to be physically fit, as it can get very hot inside a costume
Possess a background covering all types of promotional work including experience as Brand Ambassadors, performance and exhibition work
Able to engage and entertain children without speaking
At this particular event, the mascots were required to wear costumes to entertain children, dance on a stage and distribute flyers. Both in and out of costume, they had to act as Brand Åmbassadors managing the Playmobil® stand and focus on raising brand awareness.
Costumes worn by our mascots can vary significantly. Some are full body outfits, while others might be less bulky variations, or even just company promotional clothing. Much depends on the company and what they want the mascots and brand ambassadors to do.
With a database of over 20,000 event staff, we can find the right people no matter what our clients requirements might be in terms of height, weight and size.
We always work closely with the client to make sure they get the exact type of performers they want, and match their aims. Some companies just want mascot performers who can entertain children, while others want mascots who can dance or hand out flyers or attract people into a store.
Character mascot performers are a great way to get noticed and attract publicity. They are immediately eye catching, and very photogenic making them ideal for advertisements and social media.