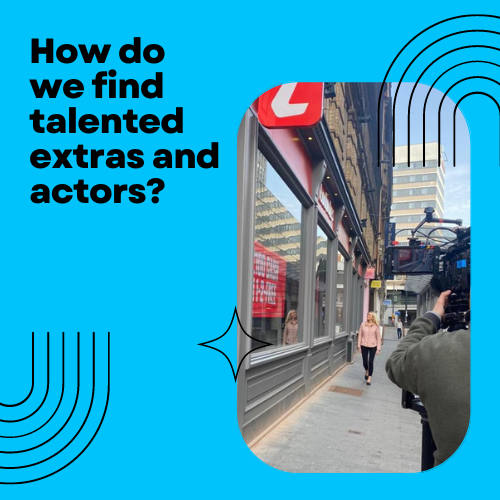 How do we find talented extras and actors?
How do we find talented extras and actors?
Ever wondered how we find the right people for every project? You might be looking for extras to take part in a commercial, a big name film or to provide atmosphere in a live event – whatever the project suitable extras are always provided exactly when and where you want them.
It is crucial to match the right person possessing the right talents and skills with the right position. Getting it right can make the difference between a project's complete success or failure, being memorable or not, or achieving the project aims.
So how do we achieve this successfully – time after time after time, making companies come back and book other projects with us.
Our answer
When you use We've Got Talent, you will encounter total, complete professionalism.
Our team:
• We are dedicated to finding the right people for the right job
• Access to a massive, constantly expanding database of talented people throughout the UK
• A network of contacts, agents, film makers and other key players
• The latest technology
• Casting calls that work every time
• An experienced organisation including on set assistants
• A reliable payment system that ensures fair pay for all extras and actors supplied by us
We've Got Talent is the best in the business
• We've got over 10,000 potential cast members on our books and are constantly finding more
• We can provide whatever you want from stilt walkers to mascots, singers, dancers, fire eaters, acrobats, actors, extras and more
• We give you all the appropriate details of extras, performers and actors when the project wraps up
• We are real people who will go that extra mile to make every booking a success
• We give you access to the best possible talent
• Our customer service is outstanding
• We are reliable and always available
• We are experts, having been working in the sector for decades
• We can help in every aspect of your project, from extras to on site PA's, dealing with contracts, marketing and event management
To benefit from our help all you have to do is contact us – email us, or phone us on 0844 800 0071 for immediate assistance. Alternatively fill in the form below and we will get back to you immediately.