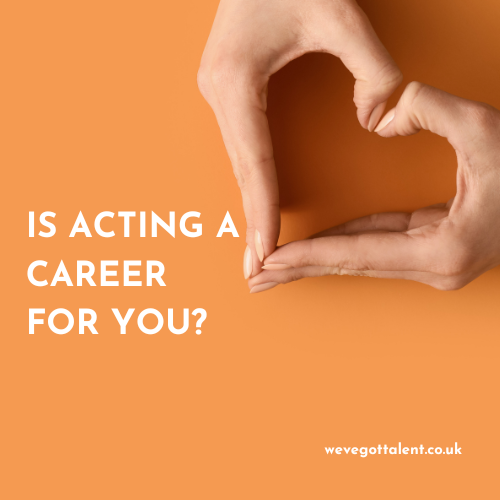 Is acting a career for you?
Is acting a career for you?
Do you have a flair for drama? Do you like being centre-stage and attracting attention? Acting may be the perfect career – and the work options are infinite.
Why opt for a career in acting?
Everyone has their own personal reason, but among the most common reasons are:
• A love of performing in public
• You enjoy entertaining and charming other people
• A desire to be creative
• You like being the centre of attention
• You are naturally animated and outgoing
• You like influencing people. Digital platforms offer a ready made showcase for talent. Many actors become online influencers.
Training
Be prepared for a lot of very hard work. You have to constantly study, study, study. A good memory is essential as there will be a lot of lines, gestures and expressions to remember. Take appropriate college courses.
Many people develop a love of acting as children, taking part in drama sessions and joining amateur drama societies.
Acting is a lifelong process. You never stop learning. Even when you have completed formal training at a college or university, you will be learning for the rest of your life. Each new project or performance requires you to learn something new, following instructions and projecting your skills. Watch other actors on stage or on film. See how they portray a character and bring it to life. See how they create emotion and atmosphere.
Learn new skills. Don't be content with the skills you have learned during your initial training. Be prepared to try new things, take extra courses for example in singing, dancing, comedy. Don't forget to expand your skill set beyond acting – take any opportunities that arise to gain experience. It may an opportunity to learn horse riding, motor cycle riding, circus skills, dancing flamenco, costume design or set building. You never know when those skills might be needed.
Looking for acting work?
Be flexible – try anything that might give valuable experience. You might be aiming a musical theatre career, or preferring classical theatre but opportunities can arise elsewhere and may provide unexpectedly useful experience. Consider working as an extra or taking part in promotional work.
Network – get to know other actors, performers, directors, filmmakers, scriptwriters, production people. The more people you know, the more potential opportunities that can arise.
Follow these audition tips to achieve success
Always bring a resume and headshot to every audition
Be honest
Acknowledge any mistakes
Show surprise and delight quickly
Show interest in the project – make sure you have done your background research
Be confident and charismatic during the audition
Want to register to be an actor or an extra?
We've Got Talent is part of the Envisage Agency group and we have been providing actors and extras for all types of roles since 2010. Click here to register with our agency it's completely free and straight forward to do!