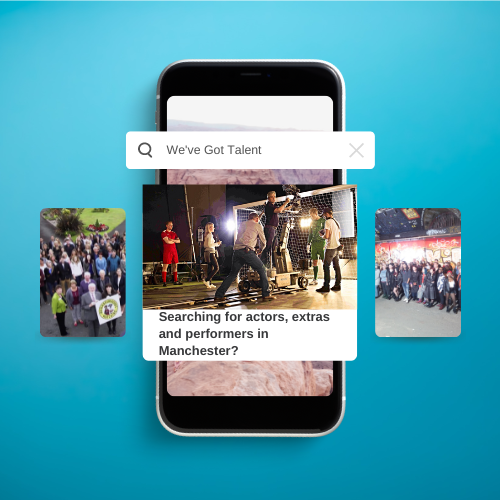 Searching for actors, extras and performers in Manchester?
Searching for actors, extras and performers in Manchester?
Look no further – we have the people you need to fulfil any promotional requirement. At We've Got Talent we have the best performers, actors and extras available in the Manchester area. We have a fantastic reputation as the 'go-to' agency for anyone wanting supporting casts, crowds, walk-ons and extras for TV, PR and film stunts and programmes. With over a decade's experience, we have proved our excellence and service.
Not surprisingly, leading companies and PR agencies come to us time and time again to provide the staff they need for any film or PR stunt.
Finding those people is as easy as A, B, C.
All you need to do is get in touch. Our database contains all the best performers and actors throughout Manchester and the surrounding area. It means that we can provide what you need instantly.
Performer portfolios are constantly updated to make sure that contact information is correct and any new skills are added. When a call comes in, our team know that they have all the information needed to confidently match performers with your requirements. No matter whether you are looking for performers, actors, singers, walk on artists, dancers, musicians, rent a crowds or extras – we have what you want.
What we need to book an extra
1. A detailed brief
When you contact us give us as much information as possible. The more detailed the brief, the easier it becomes to provide instant matches from within the Manchester area. We quickly provide a handpicked list of potential performers from which you can choose.
2. Have a clear budget
We know that budgets are always tight. We aim to give value for money at every point. By providing local performers, costs are kept to a minimum and we can ensure that we are matching the best talent to your budget.
3. Know your expectations
When you contact us we know you will have certain expectations. You will expect good service and access to good talent. You will not be disappointed. We will provide that and more – we always exceed expectations. Every client is given their own account manager who takes responsibility for every stage of the process, from finding staff to completing the project. They will act permanently as your point of contact.
Who are We've Got Talent?
We've Got Talent is an agency renowned for providing the best performers, walk on artists, singers, dancers, DJ's, stiltwalkers, stunt people, musicians – in fact every possible type of performer you could possibly require. It is also part of the Envisage Agency group. They are available in every corner of the UK, including Manchester.
Our database is constantly expanding. We are always looking for high standard good talent. No assignment is ever too big or too small. Whether you are looking for a couple of extras or 100+ performers, you need look no further. We are an agency that can be guaranteed to provide exactly the performers you need every time.
Talk to us now about hiring the performers you need for your next project in Manchester.