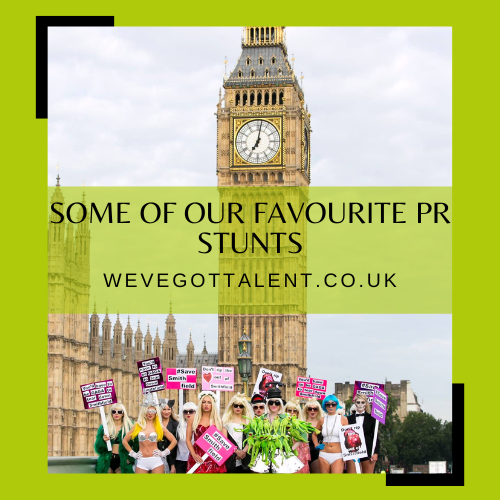 Some of our favourite PR Stunts
Some of our favourite PR Stunts
Polar bears meandering along a tube platform, bubble wrapped cars, 3D illusionary paintings making people passing by think there is a gap in the pavement – PR stunts can definitely attract attention to a cause, brand or concept. All it takes is a little bit of thought, preparation and some suitable presenters. Think promotions specialists, actors, flash mobs, costumed characters, stilt walkers, dancers – the options are immense.
We got asked to provide actors to highlight the dangers of too much cholesterol. Working with Heart, it involved an event at Charing Cross Station with a crowd of specially chosen actors taking the roles of 'commuters' and general 'visitors' travelling down a busy escalator. Suddenly people in large yellow chub suits began darting in and out among them. It attracted considerable attention, lots of photos, films and comment including going viral on social media.
Not surprisingly, PR agencies have undertaken some extremely creative stunts over the years. Instantly visual, memorable and perfect for attracting media coverage whether in the press or on social media, stunts get people talking. A good one can even go viral almost instantly.
Here's some of the most amazing – and entertaining – PR stunts that have occurred over the past few years.
Bubble wrapping a street
Comparison website, Confused.com, identified a UK street that had experienced the highest number of accident claims in the country. What better way to highlight accident risk than by providing some protection? A PR team promptly renamed the street, 'Accident Avenue'– and wrapped everything up in bubble wrap. Trees, lamp posts, cars, even a skip were carefully wrapped in layers upon layers of bubble wrap.
Vandalized Range Rover
Down in Knightsbridge, London, shoppers were shocked when the sight of a Range Rover vandalized by a scorned lover. Written in big letters across the vehicle were the words: 'Cheater' and 'Hope she was worth it'. Countless photos were taken, people stopped to stare, and the media coverage was immense. It turned out to be a PR stunt by Range Rover to promote their new Revere Range Rover Vogue.
UFO's in Los Angeles?
Red Bull is a brand well known for crazy stunts but in March 2018, it certainly went beyond expectations. Hosting a New Moon Party in Los Angeles, it arranged for people with wingsuits to jump out of a plane high above the tallest building in the city. Given that it was sunset, and the jumpers had been fitted with sparkler mechanisms, people watching from below were given the impression of comets or UFO's descending on the city. Entertaining definitely, but it also stressed the brand's desired position as being dangerously exciting.
Message or Massage
Also in the US, Visible Mobile turned a mistake into a successful promotion. Å large poster style advert for unlimited messages contained a typo – instead reading unlimited massages! Visible Mobile seized the opportunity for a stunt and set up a pop up massage unit near the advert. A group of masseurs were brought in t offer free massages to all passers by. People were left amused and relaxed.
Fake protest
Bitcoin organised one of the largest rentacrowd activities in 2018 as part of a stunt to arouse interest in its services. Quite apart from the sheer size of crowd – 8,500 people – it was also unusual because it took the form of a fake protest against the whole concept of bitocoin, located outside a New York City Consensus Blockchain conference.
Crack in the earth?
Back in the UK an East London Barrett development was promoted by an unusual painting. Artist Joe Hill was recruited to create a 3D street art illusion giving the impression of a giant crack in the earth, looking down on the old East Stadium below it. People could ostensibly balance on the edge, or sit trapped within a giant bubble – the perfect social media photograph. Apparently, a local primary school nearby thoroughly enjoyed exploring it!
Exploring Polar bear
And what of that polar bear? Just imagine the scene. A cold January morning and suddenly there are reports of a giant polar bear being seen roaming along the South Bank, across Hampstead Heath and even on Charing Cross Station. Travellers on a tube train had the shock of their lives to see a polar bear ambling along the platform as the train arrived. It turned out to be an 8ft long thoroughly realistic animatronic puppet operated from inside by puppet masters inside the bear. Unleashing this bear on London's unsuspecting public was a way of promoting Fortitude, a Sky Atlantic crime drama starring Christopher Ecclestone.
What better talking point can you get than the day you met a Polar Bear strolling through London!