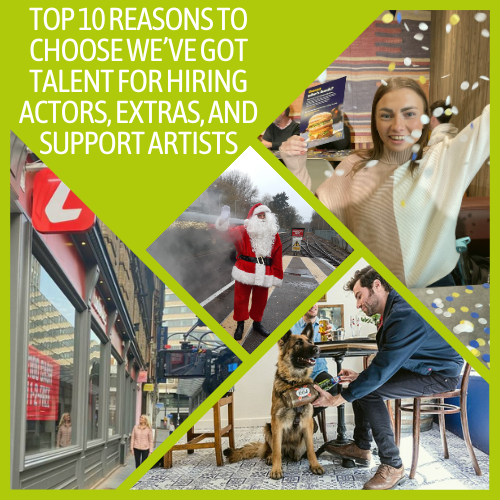 Top 10 Reasons to Choose We've Got Talent for Hiring Actors, Extras, and Support Artists
Top 10 Reasons to Choose We've Got Talent for Hiring Actors, Extras, and Support Artists
When it comes to hiring actors and extras, you have numerous options available. However, at We've Got Talent, we firmly believe that we are the ideal choice for your needs. Here are ten compelling reasons why:
Extensive Talent Pool
We are fortunate to have over 25,000 performers registered with us. Our diverse pool consists of individuals with a wide range of experience, skills, looks, and ages. With such a vast database, we can readily find the perfect performers to meet your specific requirements.
Experience and Expertise
With more than 10 years of providing actors to production companies, PR agencies, TV, and radio, we have gained invaluable experience. We understand precisely what you expect from an agency, and we are confident in delivering exceptional results.
Seasoned Performers
All the actors and extras available for hire through We've Got Talent are experienced professionals. They possess the necessary skills and expertise, and they are eager to audition for you. Many of our performers are not only trained actors but also have additional experience as singers, models, dancers, brand ambassadors, comedians, and MCs/hosts.
Responsive and Prompt
We have a dedicated team available seven days a week to assist you. Whether you need to hire an actor at the last minute or require immediate support during your shoot, we are always ready to spring into action. Our goal is to provide seamless and timely service, including accommodating any last-minute changes to your booking.
Personalised Guidance
Your satisfaction and success are of utmost importance to us. We are more than happy to offer advice and assistance to ensure a smooth collaboration. Feel free to ask us anything – no question is too trivial. We are here to share our past experiences and help enhance your project.
Impressive Extras and Actors Database
Our extensive database is designed to cater to your specific needs. Simply let us know your requirements, and we will deliver the right options for you. Our database allows you to fine-tune essential details such as accents, builds, and past experience. Based on the information you provide, our team will facilitate castings and send you a bespoke link to view the artists who have applied to work with you. The link even updates in real-time, ensuring you see new applicants as soon as they apply.
Crowd Specialists
Need a large group of background artists? Look no further. Providing crowds is our specialty, and we take immense pleasure in doing so. Whether you require ten people for a scene or a thousand for a show-stopping shot, we can make it happen.
Friendly and Approachable Team
At We've Got Talent, we pride ourselves on being genuinely nice people. Our team is approachable, eager to help, and committed to providing excellent service. You won't be passed around various departments just to get a simple question answered. Building a strong relationship with you and your team is essential to us because we firmly believe that mutual respect and understanding lead to better outcomes.
Transparent Pricing
We offer great prices for hiring actors, ensuring a straightforward and transparent pricing structure. We can work with FAA/PACT rates, or we can provide a fixed price for a specific time period. We adapt to what works best for you.
Flexibility and Support
Having been in the industry for a significant period, we understand that things can change unexpectedly. We are always prepared to accommodate such changes and provide unwavering support. Your production is our priority, and we will go above and beyond to ensure its success.
Get a quote for actors and extras
If you require extras or supporting artists, simply pick up the phone or complete the form below with your requirements. We will swiftly send you available profiles to choose from.