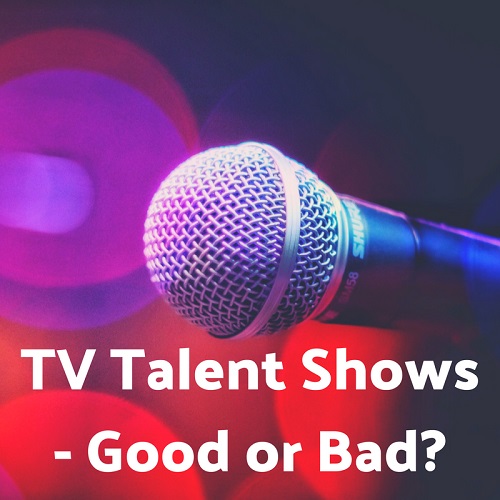 TV Talent Shows – Good or Bad?
TV Talent Shows – Good or Bad?
We may be hooked to them but are the many talent shows we see on TV good or bad for the talent industry? Who really benefits?
Their franchises are worth millions, with TV talent show formats, seen in virtually every country.
Talents show are not a 21st Century invention.
For example, Opportunity Knocks ran from the mid-1950s to 1990. It was the show that could claim to have discovered some of the biggest names in showbiz including magician Paul Daniels, comedian Freddie Starr. Lee Evans, the rubber-faced comic and actor, appeared in 1986 but was rejected, ironic considering his fame today.
But the talent show machine has changed. In the era of social media and intrusive press, for some people, the experience of talent shows was anything but pleasant, with the 'promised' fame never really materialising.
But are they good or bad? We take a look.
Fame can fade quickly
It was Andy Warhol who coined the phrase, when he declared at a 1968 exhibition, "In the
future, everyone will be world-famous for 15 minutes".
Fame can be fleeting, something we say with the winner of the first X Factor series, Steve Brookstein.
There are also some that point out the extremes of talent shows. One minute, your life and decisions are under scrutiny and the next, once voted off, you return to 'normal, regular' life.
For some people, this adjustment was huge and took time and a lot of mistakes when readjusting.
Contestants can be successful
Will Young is a testament to that, as is Gareth Gates both finalists on Pop Idol back in 2002.
Perhaps the differences are obvious – Pop Idol was the first of many modern, talent shows and the appeal was wide and varied.
But both were exceptional singers, with a talent not just for performing but for songwriting, as well as managing their careers to get to where they wanted to be.
Is reality manipulated?
Of course, there are broadcasting rules and laws that programme-makers have to abide by.
They can't fix the winners of the show but they can subtlety manipulate how viewers see the contestants and the performances.
For example, producers can change the key of a piece, they can keep information about contestants back from the audience, releasing it at an opportune time and more tricks up their sleeves, such as changing songs at the last minute and the running order.
In fact, one of the issues that many contestants have complained about is their treatment on the show, something that Steve Brookstein has gone on to write a book about.
Producers prowl
Don't be of the illusion that everyone starts from the same place. In fact, in recent years, it has become more commonly understood that producers of talent shows of this ilk are constantly on the prowl.
Across social media and other channels, producers constantly scout for talent. But they don't just want voices; they want characters.
In other words, if you are the 'little singer with the big voice' and they already have someone who fulfils this 'character', you probably won't get a look in.
A successful audition is one that you should be proud of but doesn't mean you'll get on the show.
The 'unintentional' comedy/bad act
There some famously poor or bad acts on talent shows. They are there for entertainment, the acts that people can poke fun at, all in the name of putting on a good show.
Whilst some people may be willing to play this part, is this what you want?
Positive outcomes
And that is, people are taking more to singing, whether that is taking lessons for their own enjoyment.
Performing, whether it is an illusionist, dancer or stand up comedian is about bringing joy, to you and to your audience.
With social media channels, more people have more channels and more ways of seeking the recognition and fame they deserve.
And if you do apply for a TV talent show, prepare for a ride of a lifetime.