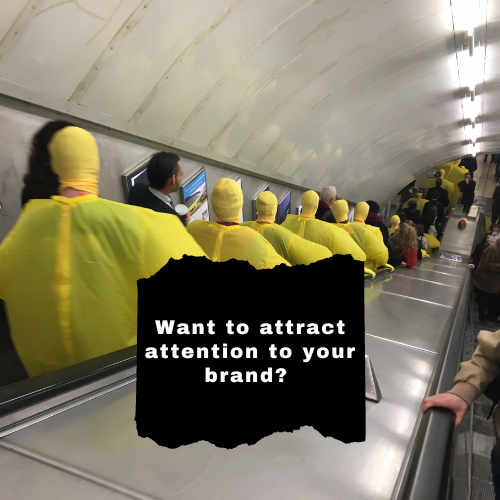 Want to attract attention to your brand?
Want to attract attention to your brand?
Then why not create a publicity stunt? PR campaigns involving stunts are proving extremely successful in getting people talking.
Take a look at these 2022 campaigns and see just how they achieved immense publicity with a simple idea.
Homes for Ukrainian refugees
The outbreak of war in the Ukraine led to vast numbers of people, especially women with children fleeing for safety. Reacting to the scale of the problem, Airbnb.org set out to help. Working with governments and charities, it co-ordinated a campaign to provide temporary housing. People could sign up through AirbnB to offer accommodation, as well as supporting hotels back in the Ukraine by paying for rooms.
Protecting freedom of expression
Banning and burning books has become increasingly common among American schools. This led publisher Penguin Random House to develop a campaign fighting censorship and supporting writers organisations. Margaret Attwood's The Handmaid's Tale is often banned – so the publishers created a copy that could not be burned. Each page was made from white heat shield pages, it had a black cinefoil jacket plus nickel wire binding and utilised high-temperature adhesives. Sotheby's eventually auctioned the book during a high profile event.
Out-horse your Email
Many people cannot resist checking emails and doing work while on holiday. Iceland's tourism board set out to encourage visitors to relax and explore its beautiful landscape rather than work. A giant working keyboard was built – and horses were taught to walk on it, creating entertaining messages. Tourists could log in to the campaign and let the horses answer their emails, while they relax on holiday. Eye-catching and entertaining, it quickly went viral and succeeded in its aim of promoting holidays in Iceland.
IKEA Seed balls
Light-hearted and fun, this simple idea gained a lot of publicity. IKEA is well known for its Swedish meatballs – so why not create seed balls to help the environment? Working with the World Wildlife Fund, its PR people created a lively campaign incorporating instructions on how to make simple nutritious treats for insects. All you needed was some clay, dirt and wildflower seeds. Plant and leave to grow!
MRI AND LEGO
Many young children have to undergone frightening MRI scans in hospital. LEGO set out to make it a little more entertaining and pleasant. It donated 600 special LEGO magnetic resonance imaging (MRI) scanner building kits so that children could play with a pretend scanner before they went through the procedure themselves. This simple PR campaign has helped thousands of children while reflecting and reinforcing LEGO's brand image.
SUPERBOWL QR CODES FOR COINBASE
Over in America, cryptobrand Coinbase spent $14m on a stunt that gained nationwide publicity. The Superbowl is one of America's biggest sports venues and Coinbase arranged to promote a coloured QR code on a black screen. Anyone scanning the code reached a link offering free Bitcoin worth $15. Sufficient to say that the response was high – website traffic to the link crashed the app! Within a short time of being launched, there were over 20m hits.
Gymshark & Mental illness
A series of weight lifting photos started appearing on social media as part of Gymshark's support for physical and mental health. What made these photo's different was the statements placed on the sides of the free weights such as TBH I just feel really lonely. Mental loads can be just as heavy as gym weights.