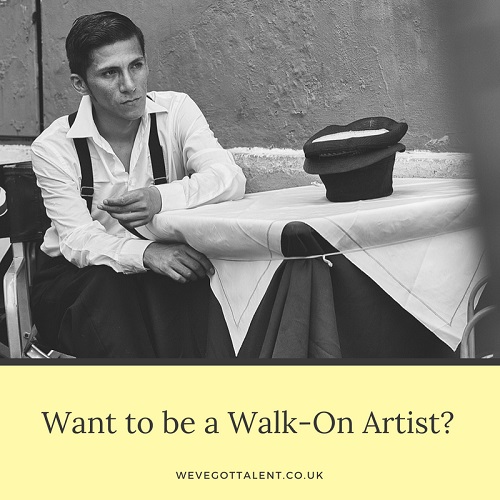 Want to be a Walk-On Artist?
Want to be a Walk-On Artist?
From films to TV work, the career of a walk-on artist or extra can be varied and exciting. It also means a lot of hanging around on film sets but you will get to work with award-winning directors, as well as popular actors.
No film or TV production would work without a ready cast of extras and walk-on artists but, there are some things you need to know before you take the plunge and opt for this career.
More than 'just turning up'
There are some keys things you need to know;
You can film the 'same' scene several times and so you will need to remember and repeat your actions several times
There can be a lot of hanging around OR, it can be a full on day of filming
There is a professional etiquette when filming on set and on location
You need to be able to 'hit your mark' without looking down so that the final scene looks natural
Be flexible and adaptable, as well as being prepared to travel and for some very early morning, late nights and night shoots too
Be convincing
A walk-on artist is…
Someone who provides background action for film and TV productions. They are usually directed by the second or first assistant director.
You can spend hours waiting to 'perform' your part which, when it arrives, could last all of 10 seconds! But your performance can be an essential component of the scene.
There are times when an extra can have a small amount of dialogue too.
Work can be sporadic and not always glamorous. For example, you could be a background extra in a period drama one week, and then have a speaking part in a corporate training video the following week.
What qualifications do you need?
You don't need any specific qualifications to be a walk-on or supporting artist although some people do attend drama school or have a few acting lessons.
Industry experience is valued as is a track record for being punctual and reliable.
How to be a successful walk-on artist
There are many ways into the industry and We've Got Talent is one of them.
We are an agency that works with small, independent and larger production and broadcasting companies providing extras, walk on artists and performers for all kinds of productions.
We work with some of the biggest names in the entertainment industry, as well as working with independent producers of training videos, corporate projects as well as overseas films being shot here in the UK.
There is no guarantee of work but we are always looking for people to meet the demand of production companies for reliable walk-on and supporting artists.
Send your profile and details of your experience or tell us why you would like to be a walk-on artist if you are new to it, to the team at We've Got Talent or call us on 0844 800 0071.