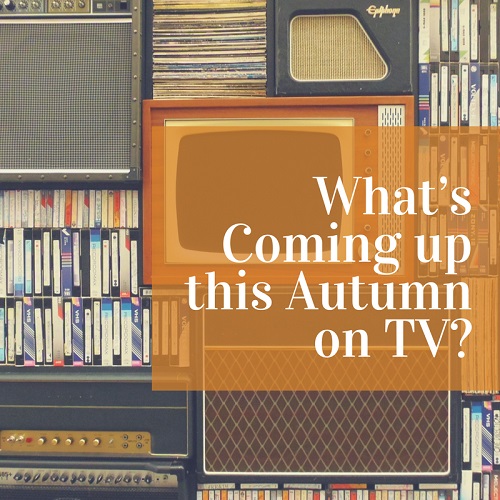 What's Coming up this Autumn on TV?
What's Coming up this Autumn on TV?
We haven't been disappointed with film and TV productions so far and with the autumn schedule about to kick in, what can we expect between now and the year end?
Whether you are a fan of the BBC's glittering celebrity dance competition or not, you have to admit that it has made an impact in the 15 years it has been on our screens. It has grown from a once a week delight to a twice-weekly treat, with daily updates over on BBC2.
Bond, James Bond… or maybe not
The Bond franchise has been under pressure for some time with Daniel Craig, the blonde-haired, blue-eyed actor who took over the role in 2006, declaring in no uncertain terms after the release of Spectre that he wouldn't portray the Naval intelligence officer in further movies.
However, with the confirmation that Sam Mendes wouldn't be directing Bond 25 (the name as for the as yet untitled 2019 film), Craig was back on board.
Danny Boyle was on board but now he isn't, citing creative differences as the reason why he left the project in late August 2018.
And there's another talking point, will Idris Elba be the first black Bond? He says not but who knows?
At We've Got Talent, we provide extras and actors for parts in movies just like James Bond. Get in touch if you think you have the talent to do the same.
Vanity Fair
ITV are pulling out all the stops with another costume drama headed up by some big names. The budget was big enough to make the first trailers for 'Vanity Fair', an adaption of William Thackery's novel about Becky Sharp, a young woman slighting the rules of polite society, look stunning.
Fantastic costumes, some great filming and a fantastic adaption could make this a BAFTA winner.
Doctor Who
Like Bond, the Dr Who franchise has a lot of ardent followers, as well as a lot of critics.
This year, we witness the transformation of Peter Capaldi's doctor into Jodie Whittaker's time travelling Lord, the first female incarnation.
Again, the makers of programmes such as Dr Who are constantly looking for extras and actors – do you have what it takes?
Dark Heart
Originally airing on defunct ITV Encore channel, Dark Heart has been bumped over to its main channel, so well was the reception of this gritty detective drama.
Haunted by his own past, the main character DI Will Wagstaffe solves some pretty grizzle murders whilst attempting to hold his life together. The stuff of a BAFTA? Possibly.
Keep an eye out for…
Black Earth Rising on BBC2 in which John Goodman (he of Roseanne fame) alongside a stellar cast take on the gritty subject of international war crimes.
The War of the Worlds BBC 1 in which a couple attempt to carve out a life together under the threat of alien invasion.
The First, Channel 4 stars Sean Penn amongst others, and looks at exploring Mars in a time not too distant from now. Could we be on Mars by 2030?
Outlander, Amazon Prime Video is also tipped for success with some great acting from Caitriona Balfe and Sam Heughan as Clair and Jamie, a young couple attempting to build a new life in the American colonies.
[su_box title="GET IN TOUCH" box_color="#0285C0″ title_color="#000000″]
[/su_box]