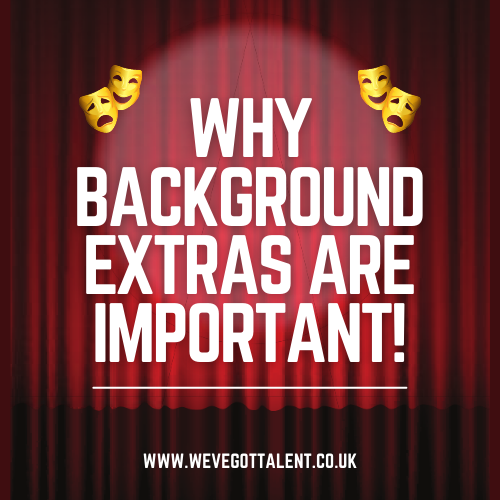 Why background extras are important!
Why background extras are important!
Overlooking the role of extras in films, TV, streaming or commercials is a mistake – they play a very important role. Without them, productions would be very, very different.
Extras help bring backgrounds to life, playing crucial supporting roles to the main participants. Just think how boring scenes would be if audiences only ever saw two or three people throughout production. It would certainly make it harder for audiences to focus and concentrate on the storyline, since background material would have far less ambiance, less atmosphere. A street scene with just two or three characters and no passers by, no passing traffic, no one in the shops and buildings would quickly become very boring. This is where extras make a difference – by simply being there in the background, meandering along the street, stopping for a chat and behaving just as you would expect in a normal street, the scene instantly becomes realistic and alive. The same is true of any other setting, whether it is in the countryside or in buildings, or in social events like ballrooms, parties, restaurants and other gatherings.
Don't underestimate the importance of working as an extra. For students and newly trained actors, musicians, dancers, or anyone with some skills in drama, working as an extra can be very beneficial. Apart from providing a good income, it is a great way to learn how film sets work. It is valuable, practical experience which is impossible to obtain any other way.
Watching has always been a classic learning technique. Seeing professional actors and film crews working on set offers insights that practising within a learning environment can never match. It teaches you how film crews work, and helps you to appreciate the sheer hard work that goes into every production especially when scenes have to be repeated time and time again in order to get the perfect take.
Keep your acting profile up to date
Make sure that your profile is kept continually up to date. Make you have indicated exactly when you are free to undertake work. Bear in mind that some productions may need extras for just one or two days, while others may be seeking extras over a longer period. Add in any new skills that you acquire, learning to ride a horse, scuba dive, taking part in magic tricks, being a party entertainer, learning a new type of dance such as flamenco or Irish, speaking another language or improving mime skills. There is always a chance that a casting director will be seeking extras with those specific skills – by having them in your profile, it will help make you stand out.
Planning ahead is equally important to film companies. Good extras get snapped up quickly, and can often be booked some time ahead. Talking to casting agencies and discussing requirements as far ahead as possible will ensure you get the best extras available. Demand for extras is high, as the UK film industry is extremely active.
For example, April 2022 saw Ridley Scott's eighteenth century epic on Napoleon starring Joaquin Phoenix as the French emperor being filmed in Greenwich. Over in Wales, a six part crime thriller for BBC1 was being filmed in Cardiff, and a film about Churchill on Bracelet Bay, Gower Peninsula. Between April – June 2022, the Haddon Hall estate in the Peak District was closed to the public as Jude Law's new film Firebrand focusing on the story of Henry VIII and Catherine Parr was being filmed at the site. While in Norfolk, John Travolta was filming The Shepherd, based on a book by Frederick Forsyth and inspired by RAF Lakenheath. All the filming took place at a former airbase in West Raynham, now home to the Raynham Hanger Studios. With such rural locations in use, planning for extras incurred additional considerations such as transport – extras had to be recruited from nearby towns which were some distance away.
The message is clear – for both extras and film production companies, planning ahead is vital.