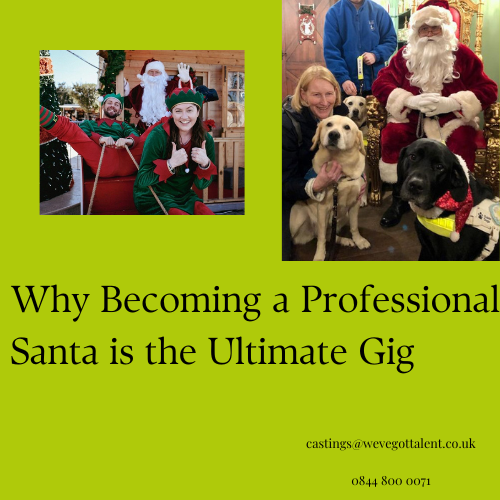 Why Becoming a Professional Santa is the Ultimate Gig
Why Becoming a Professional Santa is the Ultimate Gig
Do you have a twinkle in your eye and a heart full of cheer? If you possess acting chops, a way with kids, and a pristine DBS (Disclosure and Barring Service) record, then stepping into the iconic red suit might be your ticket to a truly magical experience. The role of a professional Santa Claus isn't just about donning a costume; it's about bringing joy, creating lifelong memories, and making the holiday season special for countless families. Here's why becoming Santa is not only rewarding but also a fantastic gig with great pay:
1. Spread Joy and Happiness:
Being Santa Claus is like being the human embodiment of joy. When you step into those big black boots, you have the power to light up children's faces with wonder and excitement. The smiles, laughter, and happiness you bring to their lives are priceless.
2. Make Lifelong Memories:
For children, meeting Santa is a magical experience they'll cherish forever. As a professional Santa, you have the incredible privilege of creating those cherished memories. Your interactions with kids and families become part of their holiday traditions and stories for years to come.
3. Great Pay for the Season:
Santa doesn't just bring gifts; he brings a significant financial reward too. Professional Santa performers can earn an attractive income during the holiday season. Whether you're looking to supplement your income or make it your primary gig, playing Santa can be financially rewarding.
4. Flexibility:
The Santa gig is seasonal, which means it offers flexibility. You can continue your day job or other pursuits throughout the year and transform into Santa during the festive season. This flexibility allows you to enjoy the best of both worlds.
5. Channel Your Acting Skills:
If you have acting experience, playing Santa offers a unique opportunity to put your skills to good use. You get to immerse yourself in a character loved by all and bring Santa's persona to life with theatrical flair.
6. Be the Heart of the Celebration:
Santa is the centrepiece of any holiday celebration. You get to be the star of the show, the one everyone is excited to see. Being Santa is not just a job; it's a role that makes you the heart of the festivities.
7. Spreading the Spirit of Giving:
Santa isn't just about receiving wish lists; he's also about giving. Many professional Santas get involved in charitable activities, spreading the spirit of giving and making a positive impact on their communities.
8. Bring Families Together:
Santa Claus has the magical ability to bring families together. Parents, grandparents, and children all come together to share in the joy of meeting Santa. Your role as Santa strengthens family bonds during the holiday season.
9. Access to Resources and Support:
Professional Santa performers often have access to resources like costumes, wigs, and props through Santa agencies. These resources can make your portrayal even more authentic and enchanting. Plus, agencies like Hire a Santa provide support and guidance to ensure you embody the spirit of Santa.
10. Sign Up for Free:
To embark on this enchanting journey, you don't need to break the bank. Many Santa agencies, like Hire a Santa, offer free sign-ups. They're always on the lookout for new Father Christmas performers who can bring the magic to life.
Sign up to be a professional Santa for FREE
In conclusion, donning the red suit and becoming a professional Santa is an incredibly rewarding and magical experience. If you have acting experience, love working with children, and hold a DBS, you're well-equipped to step into the role. The joy you bring, the memories you create, and the financial rewards you reap make this gig truly special. So, why not unwrap the magic of becoming Santa and spread happiness during the most wonderful time of the year?
We've Got Talent agency is part of the Envisage group one of the UK's largest father Christmas performer agency. Sign up here!