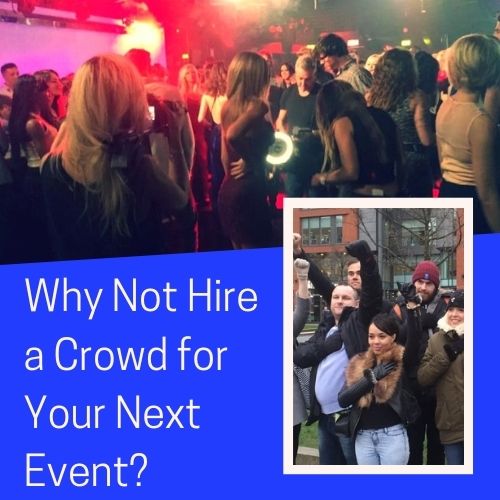 Why Not Hire a Crowd for Your Next Event?
Why Not Hire a Crowd for Your Next Event?
Hiring a crowd of performers to take part in events is nothing new but what about swelling the size of your audience by hiring a crowd? Or hire performers for a film or music video shoot? As you would expect, our talented people have been hired en masse for all kinds of events – so why not yours?
Hiring performers, especially talented people from us, give your project the extra ingredient that it needs. A bit like a project we were recently involved in.
Music videos
Popular not just across TV channels but social media too, for many bands, making and distributing a video showcases their talents to a wide audience. But they want it to look and feel authentic.
And this is why we were asked to get involved with an acoustic band recently during the filming of a promo video for them. They offer a relatively unique service. They roam around the audience at events, taking requests. They can sing and play anything from traditional pop to modern-day classics.
Like most artists, they want to showcase their talents and so when we were asked to provide a small group of people to take part in their video, we jumped at the chance.
They hired a crowd of 20 people with an even gender split and aged between 20 and 35. Their role was simple – they were to be the audience, dancing and singing along. Our performers went ready to 'act' enthused but the band were so great, they had a fantastic time and no acting was needed!
Talented performers, in a crowd!
There are so many projects we have been involved in, it's hard to list them all:
Marriage proposals – there is no doubt that popping the question is a big life event and the more unique the proposal, the more memories it makes. Our talented performers have been part of several marriage proposals, pretending to be work colleagues to bursting into an amazing song and dance routine to celebrate the answer!
Product and service launches – introducing a new product or service to market is exciting but to make a splash, you need to pull out all the PR stops. Our talented performers can act as a group of excited people, looking forward to getting their hands on this exciting new product.
Extras for all kinds of film shoots – whether it's a period costume drama or a modern classic in the making, you need talented performers and extras to make the background look natural. And that's where our experienced people come in!
We've done so much more too such as flashmobs, a group of people queuing the help create a buzz around sales, swelling audience numbers at events from gigs to festivals…
Hire a talented crowd today
It's so simple to hire a crowd of talented performers:
And we'll get back to you with a no-obligation quote!
[su_box title="GET IN TOUCH" box_color="#0285C0″ title_color="#000000″] [/su_box]