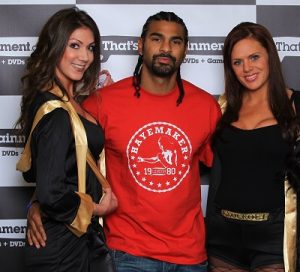 Background People for DVD Launch
What an absolute joy it was to work with heavyweight boxing champion David "The Haymaker" Haye.
It was during the time when David was touring areas of the UK for various press events promoting his latest DVD.
The PR agency we worked with on this activity wanted to make sure the store in Manchester city centre would be busy and buzzing for when Mr Haymaker arrived to sign copies of the DVD and pose for pictures with members of the general public that had made a purchase that day.
After various discussions with the agency they decided they wanted a couple of beautiful ladies outside the store in the morning that had the confidence to approach people, tell them that David Haye was on his way, give them a flyer and invite them along to the DVD signing going on later that afternoon.
The ladies were dressed up in boxing clothing so they stood out in the street (well, it's not often you pop into town to buy some milk on a cold Saturday morning and beautiful ladies come over to you kitted out in boxing gloves, boxing robe, hot pants and vest top and talk to you about a world heavy weight boxing champion)!
The girls said that David Haye was an absolute gentlemen and lovely to work with. He was chatting away with the girls and really took the time to talk to the general public and had no problems in signing the DVD's and posing for hundreds of pictures. Lots of people that asked for pictures of David also wanted the girls in the shot (well why wouldn't you) and they were more than happy to oblige.
The PR Agency were over the moon with the success of the day and it was an all-round complete success. David sold loads of DVD's, the press took loads of pictures and the girls generated loads of interest from the general public.
We think that's what known as a Win, Win, Win!